As an Amazon Associate I earn from qualifying purchases.
When I was first dating my husband I made him some coconut chicken and he loved it. He loved it so much that he told his parents about my coconut chicken recipe.
I knew I wanted to put that recipe on this blog, so I made it again for us so I could take photos.
Yet, I remembered it tasting much better. The hubby still loved it though. It tasted good to me but I wanted better. I want the best for you all. So, I reworked my recipe and I loved it along with my hubs.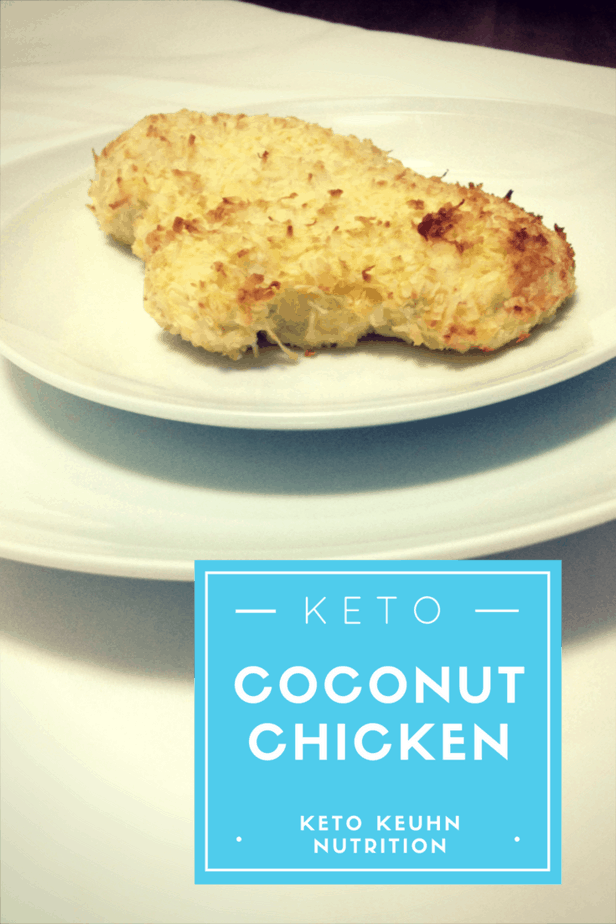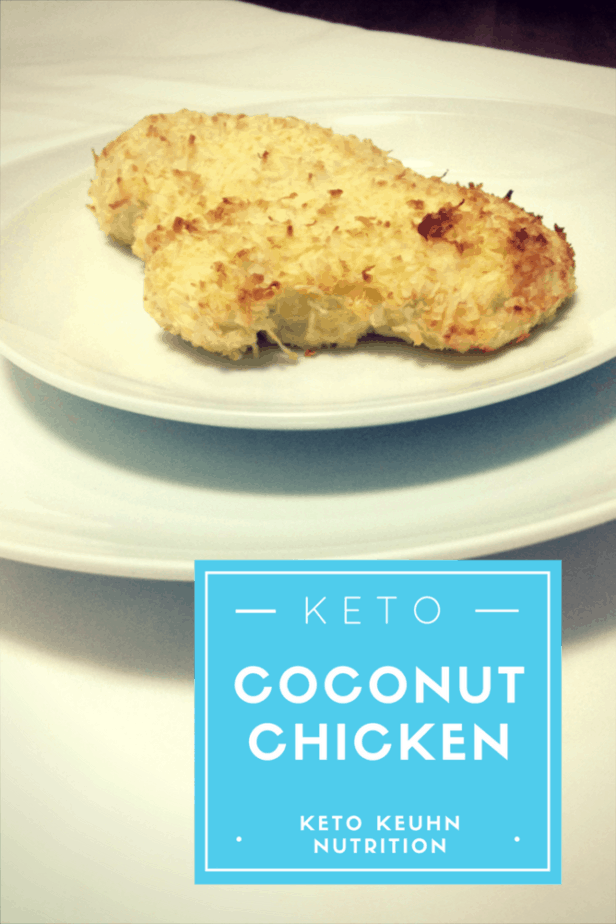 Notes about the Recipe
Please note that the nutrition facts may vary for your meal due to how much coconut flour and coconut flakes you can stick to your chicken. The thickness also will play a factor for you for breeding and with cooking it.
Alternative Cooking Method
Instead of baking the chicken, deep fry it in a fancy machine that I don't have or cook it on the stove in an inch of oil or so. I bet cooking it this would be way better.
This would, of course, give you more fat for this meal. When you are in weight loss mode, you would want to decrease your fats so your body will burn your body fat. Don't go too low in your fats though. 🙂
Nutrition Tidbit
Coconut
Coconut may contain carbohydrates but they also contain a high amount of fiber which helps you in the bathroom. In addition to helping in the bathroom, fiber allows for the net carbs to be low and not high.
Coconut meat or the flakes in this recipe is also a great source of manganese (1 oz will give you 38% of your daily value) (1). Manganese (not magnesium) is an essential mineral that our bodies need.
Manganese is essential for bone health and it's used in the metabolism of amino acids, carbohydrates, and cholesterol (2). Manganese is also used in wound healing (2).
Recipe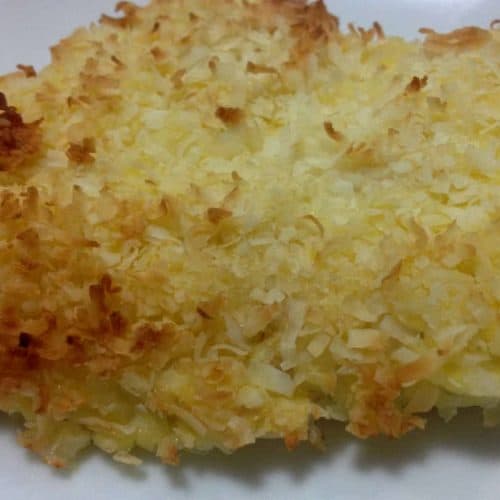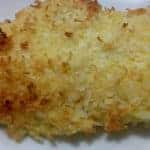 Print Recipe
Fall in Love with me Coconut Chicken
Ingredients
12

ounces

raw chicken breast

1

egg

1/4

Cup

Coconut flour

1/2

Cup

Unsweetened Coconut flakes

Salt and Pepper to taste
Instructions
Get 3 dishes for the egg, flour and flakes

Whisk the egg

Coat chicken in the coconut flour. Lightly shake to remove excess flour.

Dip into the whisk egg.

Dip the chicken into the coconut flakes.

Place onto greased baking pan.

Cook at 350 F for about 25 minutes. This will vary depending on your chicken thickness. Feel free to also flip your chicken halfway through.
Nutrition Facts (1 serving gives you 4 oz (raw weight) of chicken):
Calories: 255
Fat: 11
Protein: 30
Carbs: 8
Fiber: 5
Net Carbs: 3
To log the recipe on MyFitnessPal, search for: Keto Keuhn Nutrition - Fall In Love With Me Coconut Chicken (I had a typo when I first entered this recipe. The correct one has an extra e in Me.)