As an Amazon Associate I earn from qualifying purchases.
Beef Crack Slaw
This meal plan as a lot of my favorite foods and a meal on my keto list. I'm super excited about this meal plan and I hope it brings you joy. I also wanted an easy shopping meal plan for you. Breakfast is just coffee. Then, lunch and dinner use the same type of meat. I collaborated with Tasteaholics on this meal plan with their beef crack claw recipe. Since they used beef in their recipe, lunch is a hamburger with bacon. I added bacon because bacon is never wrong. 🙂
Breakfast: Fatty Coffee
Lunch: Bacon Burger
Dinner: Easy Crack Slaw
Download the full beef crack slaw plan here–> Beef Crack Slaw Meal Plan. In this meal plan I give the macros for each item listed, so you know exactly what I used and are able to adjust if needed.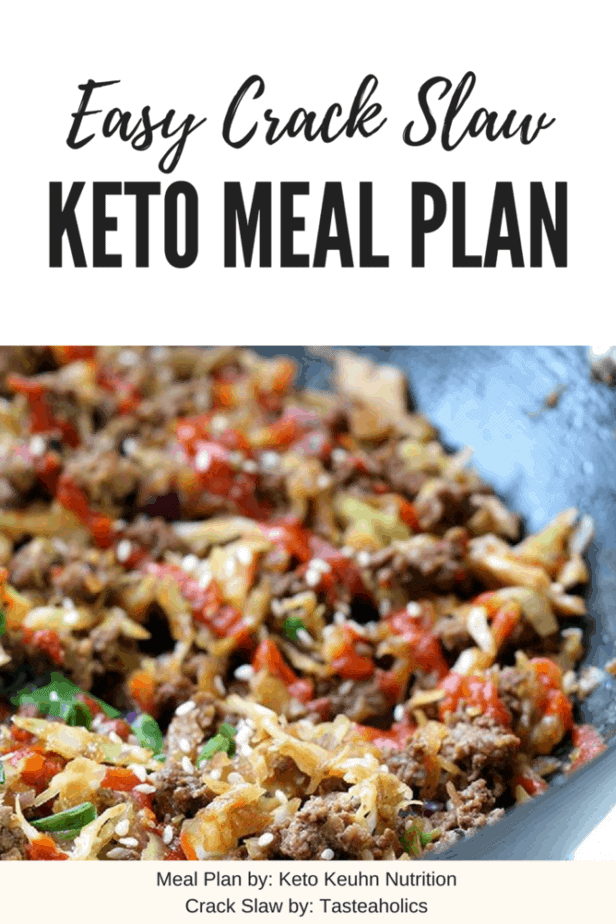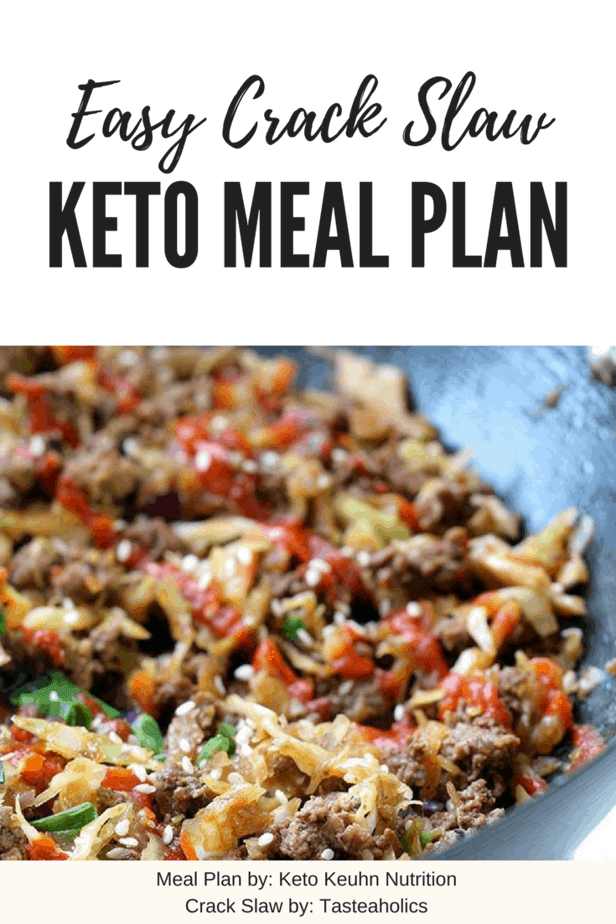 Some Ways to Change the Macros
Fat: To add or subtract fat you can easily add more butter or oils, or you can just use less.
Protein: To adjust protein, change the type of beef you cook. Choose one with more or less fat. Or if you wanted a chicken or pork chop salad, change up the meat type. You can also have more or less in ounces of the meat protein that you choose.
Changing Fat and Protein: Feel free to add other foods to this plan. Heck, toss in some snacks if you need snacks. Eggs are an easy choice to add or even nuts. Please, just watch the carbs on the nuts. For lunch, you could make it a cheeseburger.
For the non Ketoers in Your Life
Breakfast: Check out the Ezekiel brand for bread options for those that still eat carbs. I used to have this bread before I went low carb and then keto. You would find this brand in the frozen section. This brand as more than just bread slices now. Go check them out.
Lunch: To make this super easy, just had a bun for the burger.
Dinner: Adding rice for even quinoa to this dish, would be a great addition for others.